1. I have never stopped loving The Doors. I wonder why that is... oh, Jim Morrison's amazing voice and hot ass in his leather pants of course...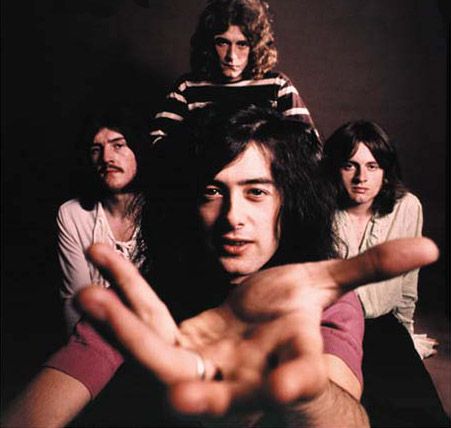 2. I grew up listening to Led Zeppelin while my dad blasted it on the stereo when I was 6 years old running around my house like a crazy child. from then on, Zeppelin completed me.



3. no one will compare to the fucking amazing sounds of Jimi Hendrix. the guitar is such a sexual instrument! what a guitarist... what a man... and let's all not forget how stylish Jimi was.



4. you either love or hate Bob Dylan but of course with the way I was raised in a house full of The Who, Allman Brothers, Led Zeppelin, Clapton, and Bob Dylan records floating throughout the house... I fell for Dylan's voice instantly the first time I heard his voice when I was young.



5. my mother wasn't a fan of the long intros Pink Floyd was known for, my father was in love. I took my father's side and they have become my top three favorite bands. I don't think I could ever stop listening to them.



6. YES I do actually listen to some music of today's generation... very rarely. but The Sounds happen to be my favorite, and I listen to them all the time. I love Maja Ivarsson with her unique voice and lyrics that I can totally relate to. they're the best to listen to when I'm upset because they cheer me up in an instant.



7. THE BEST SOUNDS YOUR EARS WILL EVER HEAR: Girl Talk. yes, I have been obsessed with Girl Talk for about 3 years now. I listen to the same CD over and over again (my favorite CD of theirs) just so by the 4th track I'm half naked from sweating and singing on the top of my lungs to all of the songs and rap I know in the remixes, which is pretty much all of them. come to think about it, I just listened to them and got half naked in my car today.....



8. I kind of can't live without Queen because Freddie Mercury's voice is so goddamn beautiful. I kind of get aroused by his voice or something. I don't care what anyone says either, Freddie is hot. he's a very attractive gay man. even though he looks exactly identical to my ex boyfriend's stepfather.



9. Elton John, the greatest male singer of all time. I get chills every time I hear his song "Tiny Dancer". I instantly am thrown into a good mood and I am hypnotized by his fabulous outfits. Elton John is the epitome of fabulous.



10. "All you need is love" says The Beatles and it is definitely so true. I actually haven't listened to The Beatles in quite some time but I love them to death. every time I start listening to them, I go through their records one after the other like drinking water. It's the greatest. the most talented, most famous band in the world: Paul, John, George, Ringo. they melt my heart like butter.



11. every guy wants to be Mick Jagger and every girl wants to fuck him. The Rolling Stones are and always will be the best rock band. and they're still kickin it in their fucking sixties!



12. last but not least, Black Sabbath. me and my dad will sing-a-long to them whenever I or he puts on their records in the car or at home. one of the greatest bands of all time. Ozzy can't go wrong.